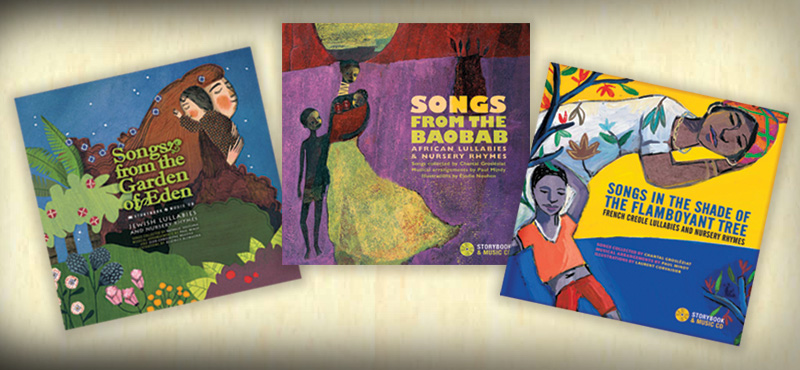 Discover this fall a few of our superb award-winning world music titles!
Songs from the Baobab: African Lullabies & Nursery Rhymes is a collection of 29 exquisite lullabies and nursery rhymes stemming from 10 different countries such as Rwanda, Senegal, and Ivory Coast. Enjoy the sounds of indigenous instruments played along with the voices of men, women, and children performing songs in 11 different languages. This wonderful storybook-music CD was compiled by Chantal Grosléziat, arranged by Paul Mindy with striking illustrations created by Elodie Nouhen.
Songs from the Garden of Eden: Jewish Lullabies and Nursery Rhymes, winner of a Parents' Choice Gold Award, features 28 recordings originating from the Sephardic, Yemenite, and Ashkenaze territories. This broad collection offers beautiful songs performed in the Yiddish, Hebrew, Judeo-Spanish, and Arabic languages, with lyrics translated into English. Each song is accompanied with a description of its meaning and origins. All songs were collected by Nathalie Soussana, with music arranged by Jean-Christophe Hoarau and Paul Mindy, and illustrations by Beatrice Alemagna.
Songs in the Shade of the Flamboyant Tree: French-Creole Lullabies and Nursery Rhymes consists of a comprehensive mélange of 30 beautiful French Creole lullabies and nursery rhymes with lyrics translated into English. Each song is accompanied by a description of the origins and meaning behind the song. This collection of songs embodies the resonant quality of life in Guadeloupe, Haiti, Martinique, and Reunion Island. Compiled by Chantal Grosléziat, and arranged by Paul Mindy, the songs are performed by children, women, and men. Discover songs like, "Ti zwazo," "Manman mwen," and "Mabèl-o." The domestic instruments used add a rich, homegrown quality to the music. This exquisite collection of songs enchants and creates a colorful picture of everyday island life. The vibrant illustrations were created by Laurent Corvaisier.