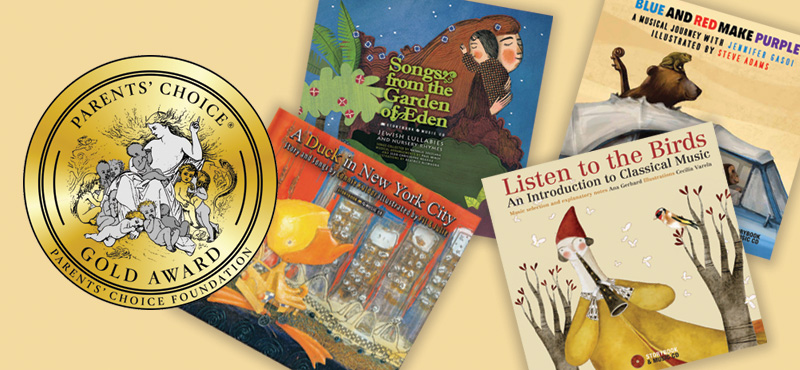 The highly-respected Parents' Choice Awards Progam, designed to help parents and caregivers of all achievements and backgrounds make informed decisions about which new products are right for their children, is the US's oldest nonprofit program created to recognize quality children's media.
The Secret Mountain is proud to claim having received the prestigious Gold Award 12 times over the years.  Here's what the selection committee had to say about some of the winners:
A Duck in New York City (2004). Each and every song is well written, extremely well produced and the features a variety of musical styles and instrumentation.
Songs from the Garden of Eden (2009). This cherished collection of Jewish lullabies, folk songs, and nursery rhymes has no real age limit for enjoyment. Music and text are perfect for shared listening and reading time.
Listen to the Birds (2013). Gorgeously conceived, this family-friendly book-and-CD set explores how the sounds and songs of birds influenced works by Mozart, Vivaldi, Handel, Tchaikovsky and other composers.
Blue and Red Make Purple (2016). Grammy Award-winning children's artist Jennifer Gasoi, who wrote and arranged each lively track on the album, takes listeners through a tour-de-force sampler of musical styles. Gasoi, a multi-instrumentalist, leads the tracks with her clear and expressive soprano.